Indexel has been nominated as a 2018 Critical Power EcoXpert MASTER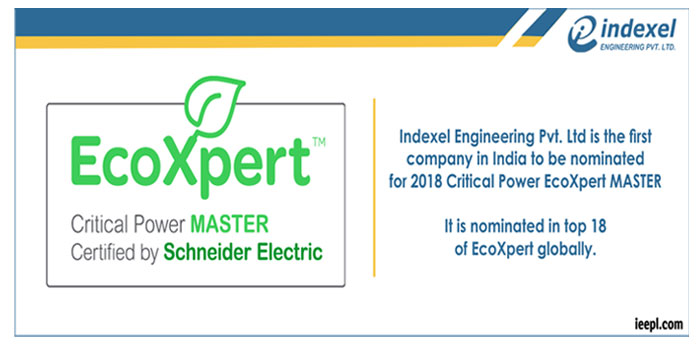 It is indeed an extremely proud moment for all of us at Indexel Engineering Pvt.Ltd to be nominated by Schneider Electrics as a 2018 Critical Power EcoXpert MASTER. this implies that we have exhibited the capacity to convey incorporated vitality and power administration frameworks in basic applications, to enable clients to deal with their electrical system and guarantee great power quality while controlling their energy cost as well.
The things that are expected from a Critical Power EcoXpert MASTER are:
• Critical Power Specialist System Integrator capable in cutting-edge energy and power administration systems
• Trained and experienced with Schneider Electric's power monitoring software with great information of energy systems and a solid comprehension of advanced, high-precision meters and gateways
• Typical applications incorporate energy management, energy quality control and keeping up uptime in basic conditions.
Not only this, Indexel Engineering Pvt. Ltd is the first company in India to be nominated for 2018 Critical Power EcoXpert MASTER and is nominated in top 18 of EcoXpert globally.
We at Indexel are proud to be nominated and we will continue to be energy efficient and keep this on top of our priorities.
About Author