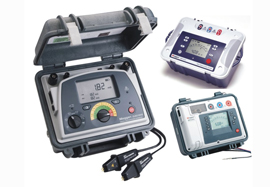 MEGGER
PRODUCT DESCRIPTION:
---
INSULATION TEST EQUIPMENTS
EARTH OR GROUND TESTERS
OIL TEST EQUIPMENT
LOW RESISTANCE & BATTERY TEST EQUIPMENT
CABLE FAULT LOCATING EQUIPMENT
TRANSFORMER TESTER
DESCRIPTION
LOW RESISTANCE & BATTERY TEST EQUIPMENT
From Megger, these highly accurate, easy to operate instruments measure resistance with resolution as fine as 0.1 micro-ohm. Digital micro-ohmeters and DLROs measure contact resistance of switch and circuit breakers, aircraft frame bonds, and rail and pipeline bonds just to name a few of the applications. Megger has models available for testing using test currents from 0.5 mA to 100 amps covering a multitude of applications that require precise low-resistance measurements.
The Megger BITE3 Battery Impedance Test Equipment determines the health of lead-acid cells up to 2000 Ah by taking measurements of the most important battery parameters.
CABLE FAULT LOCATING EQUIPMENT
Power cable fault locating and testing takes on a whole new dimension with the modular cable fault locating concept from Megger. They have geared their development to the industry requirements for a more tempered fault locating method and have developed more sophisticated methods that reduce the stress on insulation systems.
TRANSFORMER TESTER
Megger provides advanced diagnostic testing technology for transformer. The IDAX range of Dielectric Frequency Response Analyzers are designed for measuring moisture in power transformers as well as testing insulation material in various power system products.
FRAX range of Sweep Frequency Analysis products are designed for detecting electromechanical changes inside power transformers. The products have the highest measurement range and accuracy and fulfil all international standards